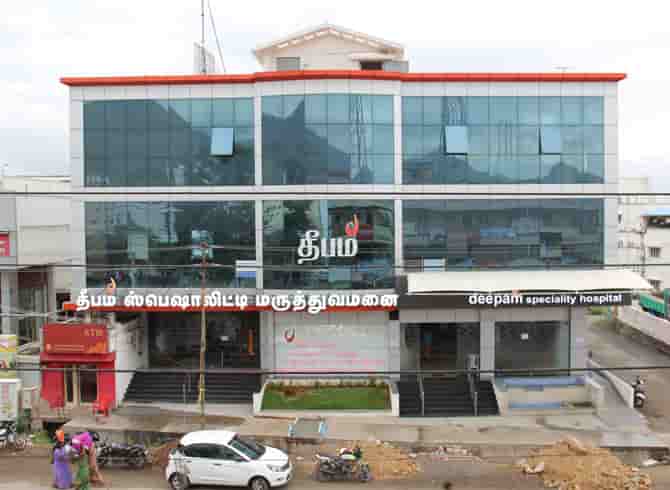 Deepam Specialty Hospital has three specialised departments:
Fertility
Cosmetology and Cosmetic Gynaecology
Regenerative Medicine
Other services:
Emergency Care
Blood Test
Infrastructure
Pharmacy Support(24 X 7)
24/7 Special Service
CT Scan
And over thirteen departments:
Test Tube Baby Centre
General Surgery
Laparoscopy and hysteroscopy Procedures
Plastic and Cosmetic Surgery
Trauma & Orthopedic Care
Urology
ENT
Pediatrics & Neonatology
Surgical Oncology
Surgical Gastroenterology Diabetology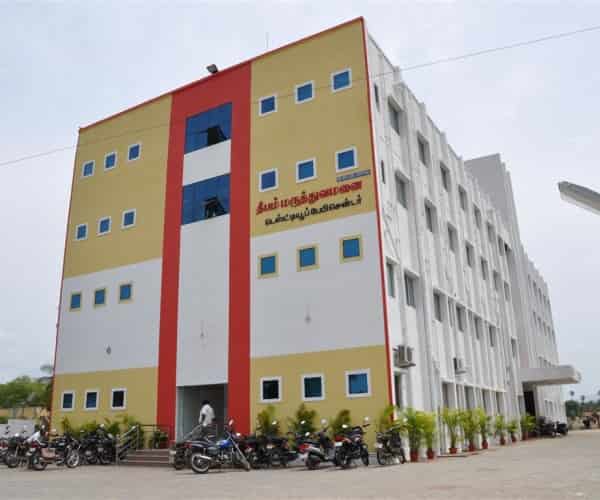 Deepam Specialty Hospital, Valapady, Salem is a Multi-Specialty hospital founded by Dr. K. Suresh Kumar and Dr.A.Akilambal in 2003. The hospital offers various services like consultation, treatments, procedures and surgery. The hospital gained humongous trust from the public within a span of four years; with increasing need for reliable healthcare it expanded into Multi Specialty Hospital with NABH accreditation. Over the years it has been providing satisfactory and affordable health care solutions to the people of Salem and its Suburbs.
The hospital has technologically advanced equipment's and methods of treatment are timely upgraded to decrease the complexity of all medical solutions and increase its availability. Judicious amalgamation of high end technology, highly knowledgeable staffs and experienced physicians facilitates the hospital to serve the purpose more effectively.
Dr. Suresh and Dr.Akilambal are not just the founders; every patient in Deepam Specialty hospital gets their timely consultation, treatment and care. Dr.Akilambal graduated from Salem Medical College in the year 1997, she obtained DGO from institute of Obstetrics and Gynaecology in the year 2001. Dr.Suresh Kumar graduated from Kilpauk Medical College, Chennai (1997-1993) and MS (General Medicine) from Stanley Medical College, Chennai (2001).
It takes great confidence and unadulterated concern towards rural people to forego so many lucrative points that metropolitan city life can give but yet, they chose to cater to people in Salem. Both of them being highly qualified and passionate professionals have made Deepam a functional medium to serve their skillfulness. They have strived hard to increase the efficiency of the hospital.
Dr.Akilambal leads the team of infertility and Cosmetic Gynaecology in Deepam Specialty Hospital. After seeing couples especially women suffer from issues regarding fertility, she steered her career towards specialising in Reproductive medicine. She has given birth to many proud mothers under her care and treatment.
Dr.Suresh Kumar leads the department of General surgery and Laparoscopy. Over the period of 16 years, being a renowned General Physician and Laparoscopic surgeon he has been providing excellent medical services to people in need, he does not compromise on giving patient adequate importance, high quality care/service inside the campus . He believes in making Deepam a healthcare source that is solely patient oriented.
Deepam Specialty Hospital is a pioneer in treating infertility in the city. Since 2012, the Department of infertility has been delivering the bliss of motherhood for many women who had issues with fertility. Various assisted methods of conception are facilitated to treat each patient with respect to their need IVF, ICSI, IMSI, sperm and embryo freezing are some of the effective methods that are used to treat infertility.
The Department of Cosmetology and Cosmetic Gynaecology provides patients with appropriate treatments to give them satisfactory results. The technologically advanced procedures aim to bring back what patients have lost over time. Dr.Akilambal believes that youthful appearance is an asset and professional treatments can nullify the effect of time over one's appearance.
The hospital is an explorer in providing specialisation in Regenerative Medicine, the futuristic approach towards catering their patients makes them unique and successful. Regenerative Medicine can make path-breaking solutions in the field of medicine and can prove to be revolutionary with continuous evidence-based practice.
With determined hopes held high and dedicated staff members having a wide and deep range of capabilities, the hospital is marching towards its goal in an accelerated pace. The main motto is to provide world class healthcare facilities and comprehensive medical services in the warmest friendly and reassuring environment. Every individual in the hospital is concerned and compassionately involved in giving back to the society, as a result of which Deepam Specialty hospital is serving the community by extending various medical services.